Making your own pink floral grapevine wreath will be such a cute way to welcome all your guest who stops by to visit! This wreath can also be used for multiple things by removing the hello sign. You can use this pink floral wreath for Mother's Day, spring, or even Breast Cancer awareness month.
How to Make a Floral Grapevine Wreath
Making a pink floral grapevine wreath is a fun, creative way to add some springtime flair to your home décor. This pretty and unique DIY wreath is relatively easy and only takes a few simple steps.
Crafting wreaths with flowers can be an entertaining way to spruce up any space with a beautiful, handmade accent. If you're interested in learning how to construct a one-of-a-kind floral wreath using natural supplies like grapevines, be sure to check out my design school. This is where I teach you how to create beautiful wreaths and all the tips and tricks to wreath making.
After watching this tutorial you'll soon be making floral wreaths out of grapevine materials that will make your friends envious of your beautiful handiwork!
For a truly one-of-a-kind look that is sure to turn heads this Easter season, go with a stunningly beautiful pink floral grapevine wreath!
Print
Directions
Create the shape for your wreath using your eucalyptus bush starting at the top right and working your way around to the bottom. Leave an empty spot on the left side.
Now mount your hello wooden sign to the wreath. Use wires that came on the sign to attach the sign to the wreath. Place in the bottom right off-centered.
Place moss around where you just placed your Eucalyptus bush pieces.
Using your asparagus fern pieces place them in the greenery sections you already set up as your wreath shape. You can bring it out a little on each side to give it a little more dimension
Place your pink floral spray into your wreath by dipping the ends in hot glue first. We will add these in three different sections. Top left, bottom left, and far bottom right.
Attach your pre-made pink bow in your empty space which is the middle left. Using your zip ties weave it in and pull tight. Roll the tail ends of your bow up to give it a little poof.
Add in more eucalyptus bush pieces around the bow to add some nice texture to the front.
Finish off your pink wreath by placing the pink berry leaf into your wreath around your bow. You can really use your own creative touch with these last pieces. There is no wrong placement with these. They are to add more texture and more pink!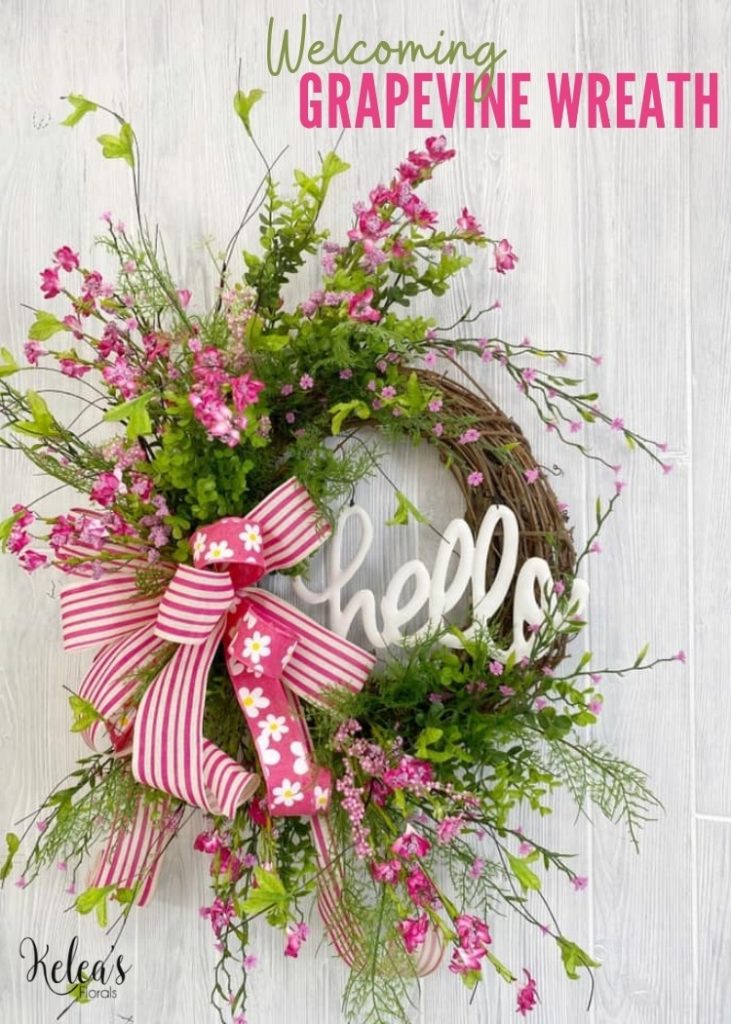 How do you make a floral wreath step by step?
Want to learn more?
Join the free Facebook group Keleas Bloomarino Buds Wreath Making Community